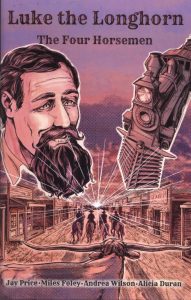 Learn of Wichita's early history through the eyes of "Luke" the longhorn, a fictitious pet longhorn kept by early Wichita settler "Dutch Bill" Greiffenstein. This is the second in a trilogy of graphic novels for young adults based on local history.
Saturday, March 2nd 2:00 pm at the Historical Museum's DeVore Auditorium
Admission for this event is free.
A presentation by the books creators will be made at 2:00 pm and followed by family friendly activities led by the Museum's educators. The books creators include Andrea Wilson and Lisa Duran, writers and researchers, who are students in the local and community history program; and Artist is Miles Foley, a recent graduate of the WSU fine arts program; under the direction of Dr. Jay Price, professor of history at W.S.U. All publishing proceeds support the Department of History publication fund. Books will be sold through the Museum's gift shop with retail proceeds benefiting the Museum.